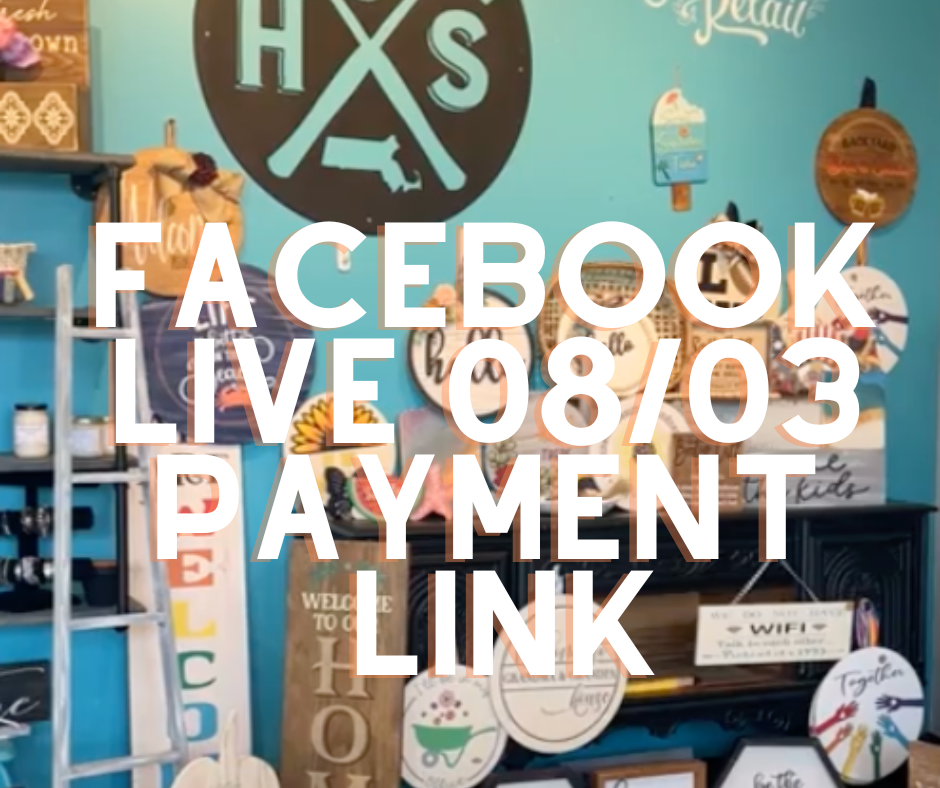 08/03/2023 LIVE Facebook Sale PAYMENT LINK
Hammer and Stain South Shore
This is a payment link for Hammer and Stain South Shore LIVE Facebook Sale 08/03/2023, our address is 594 Washington Street, South Easton MA
Payments will need to be made by TODAY by 6pm
Please make it to pickup as we have no space to store items. You can send anyone to grab your projects. Pickup is 8/8 6-9pm, 8/9 2-5pm, 8/10 6-9pm if you can't make it  just sent us an email so we know and can give you alternate times.
Did you miss our live? Shop the replay and send us an email to see if an item is still available!
1. P
lease scroll down and find your name in the dropbox. Please note that if you have more than one item they are listed together. If its hard to see list on phone log into a laptop. (I DIDNT TYPE OUT ALL THE PROJECT JUST TOTAL, IF SOMETHING DOES LOOK RIGHT EMAIL ME).
NO REFUNDS FOR this SALE! 
Please private message us on Facebook or email us if you have any questions. 
If you no show for pickup, you forfeit your payment if you did not make other arrangements so PLEASE make a note of your pickup date and time.
Regular price $45.00 Sale
Terms
Once your order has been submitted we are immediately beginning the process of production of your personalized stencil. Due to the customizations of ALL of our workshops, there are NO REFUNDS FOR WORKSHOPS! However, if you cancel with at least 48-hours-notice your FULL reservation fee will be turned into a store credit that can ONLY be used for future workshops. Same day cancellations or no-shows will NOT get a credit for a future workshop! Please email us (info@hammerandstainsouthshore.com) to cancel. If you do not show up for a workshop that you have a spot reserved, you forfeit your payment.