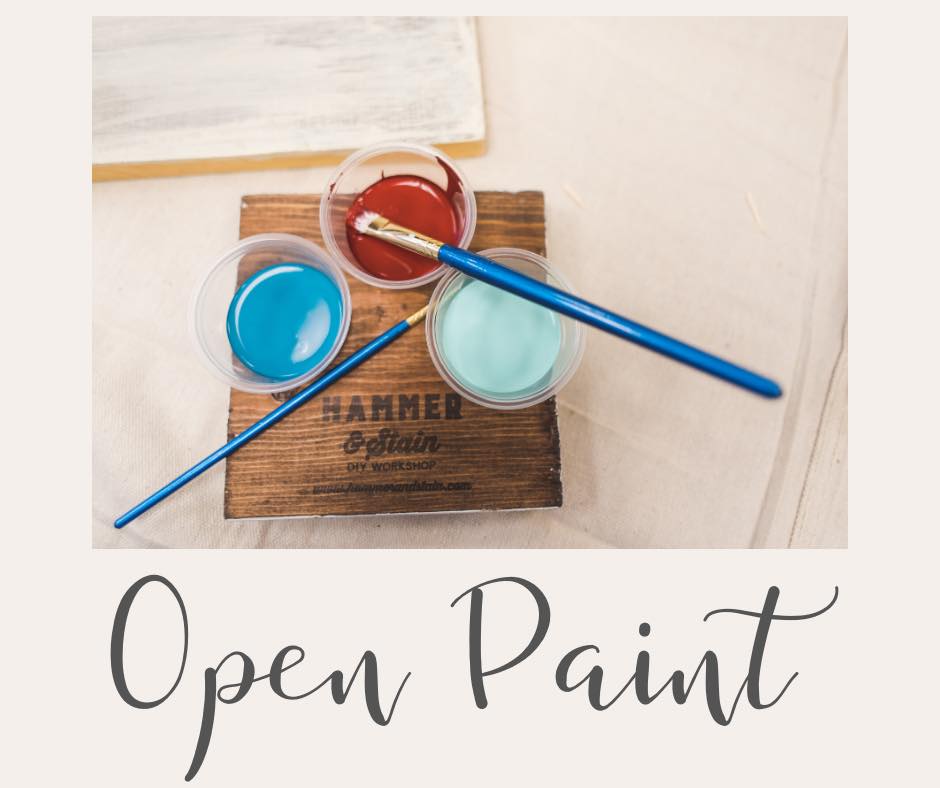 10/17/2020 OPEN PAINT 10am-2:30pm (Time slot registration required)
Hammer and Stain South Shore
Join us on Saturday, October 17th from 10am-2:30pm for OUR MONTHLY OPEN PAINT!
We took all all of your feedback and have posted 90 minute time slots. It does NOT matter if you come at 10am or a later time, we will be replenishing all day with wood and stencils. Please attend at the time you register, if you come early you will have to wait for your registered time outside the studio.
This is not a class format it is self-paced, we are there to help and guide you. Choose from a variety of pre-cut stencils and projects when you arrive and add your creativity using our large selection of stains and paints. We will have ready to go projects everything for kids, Halloween, bath, home, family designs and more! If you see another project while your making your open paint project, we can package it up for you to make at home.
Please make sure if you register for a timeslot (for example: 10-11:30am) you arrive at 10am, arriving later in the timeslot will not guarantee a spot as we have sessions back to back.

Due to Covid we are only having 10 people per timeslot and timeslots are 90 minutes. You have to register each person and each person must make a project.
If you would like a specific project that you know you want to make, theme or personalization please email us 5 days prior at hammerandstainsouthshore@gmail.com to confirm and ensure it will be ready for you when you arrive.
HOW TO REGISTER (NOTE THIS IS NOT FOR A PROJECT BUT ONLY TIME SLOT):
Simply pick your time slot, add to cart then in cart update QTY to how many people will be attending (include kids and adults in total).
EACH PERSON MUST BE MAKING A PROJECT.
This will reserve your time slot, only 10 registrations per slot. If a time slot shows not available it is sold out.
Please note our current in-studio workshop guidelines for attending:

- We have a maximum of 10 spots spread out over 4 tables.
- You must wear a mask while in the studio per MA guidelines
- We will provide you with gloves to wear once you enter the studio as well as, hand sanitizer at every table.  We have a two bathrooms in the studio for hand washing as well.
- We will get you your paint/stain colors of choice and you will use tools/sponges that are a one time use or sanitized & cleaned in-between workshops
- We will NOT be providing aprons like we usually do, so PLEASE COME WITH YOUR OWN or an old T-Shirt or wear clothes you will not be upset if you get paint or stain on (Paint & Stain does NOT come out of clothes, but washes off hands no problem!)
- If you have a fever or feel sick leading up to OPEN PAINT we respectfully ask you to stay home and contact us before 24 hours to let us know if you are not coming due to feeling unwell so we can give your slot to someone else that might be waiting. Only people signed up for the workshop are allowed in the studio during the workshop time.
- If you have any questions or concerns please email us at: hammerandstainsouthshore@gmail.com
Terms
Once your order has been submitted we are immediately beginning the process of production of your personalized stencil. Due to the customizations of ALL of our workshops, there are NO REFUNDS FOR WORKSHOPS! However, if you cancel with at least 48-hours-notice your FULL reservation fee will be turned into a store credit that can ONLY be used for future workshops. Same day cancellations or no-shows will NOT get a credit for a future workshop! Please email us (info@hammerandstainsouthshore.com) to cancel. If you do not show up for a workshop that you have a spot reserved, you forfeit your payment.